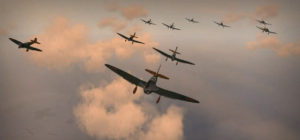 Welcome to iEntertainment Network Inc., (IENT), and our portfolio of games.
We are very proud of our WarBirds series of military simulations that has been running for customers since 1997.  WarBirds has been continuously updated since and with WarBirds 2017, you get three new great terrains, brand new flight models for 40 of the most popular aircraft in the simulations, and more updates and improvements.If you want to learn to fly and fight, you should come fly WarBirds but understand it is not an arcade game and you will die a lot as you learn to fly and fight.
It is best if you go to our trainers, online every Monday and Thursday nights at 2100, in the training arena to help new players get their setups right and learn the best ways to fly and fight. Then find a great Squadron to join of which there are about 35 current squadrons in the game including the 4th Fighter Group, the 352nd Fighter Group, the Doolittle Raiders and more at TotalSims.com
In the WarBirds series, we also have a great tank game, M4 Tank Brigade, (in the tradition of M1 Tank Platoon, from our CEO's original company, MicroProse Software).  We also have Dawn of Aces, a World War I combat flight simulator. All the WarBirds games have a massively multiplayer online version and a standalone retail solo version including WarBirds Dogfights, (WW II dogfighting), Dawn of Aces, (WWI dogfighting), and a retail M4 Tank Brigade game with 1000's of different armored combat battles.
The WarBirds games are for the PC and Mac computers.  Recently we launched WarBirds Fighter Pilot Academy for iOS mobile devices. We also have a series of Bow Hunting games, Bow Hunter 2017 East and Bow Hunter 2017 West to test your skills in hunting White Tail Deer.  These games are for iOS and Android mobile devices.
IENT will be launching a series of new games with great media partners over the next few years. If you have suggestions or recommendations on our current games or have some ideas for new games we should do, please go to the Contact Us link and send us a message.  We look at all those messages.
Have fun and Check Six!
IENT